How to Form New Beliefs and Habits with Affirmations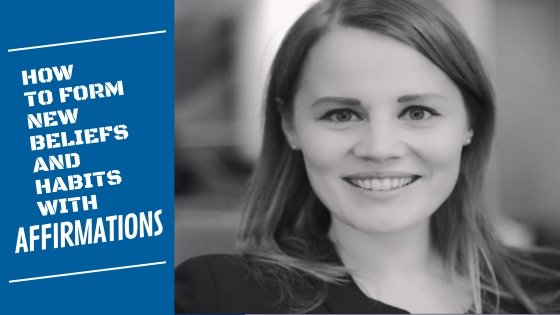 When we want to intentionally form a new BELIEF or HABIT, AFFIRMATIONS

are a great way to support the process.🦋
Some people think that AFFIRMATIONS are a new concept. That is not true. Through the inner self-talk💬, we are constantly affirming to ourselves what to do✅ and what not to do❎.
When we make an experience we do not want to make again, we repeatedly think about all the bad parts of the experience. By reliving it in our head🧠, we strengthen the belief that we do not ❌ want to do it again in the future.
POSITIVE AFFIRMATIONS are based on more on the same principle. They are just a more conscious approach deciding first what we want to achieve or what we want to have in our life.
And yes, you need to be able to BELIEVE that what you are telling yourself is TRUE and is POSSIBLE👍. If you feel strong objections within yourself, affirmations ❌will not help you with forming new Beliefs and Habits.
AFFIRMATIONS ARE A POSITIVE STATEMENT. IT'S THEIR REPETITION THAT WORKS ON BREAKING OLD NEURAL PATHWAYS AND MAKING NEW ONES.
So how do you actually create those AFFIRMATIONS😍 👇
🦋 Ensure That Affirmation only contains POSITIVE words. Avoid negations like "don't", "cant", or "wont". Reframe the affirmation to what you are trying to achieve, instead of what you do not want in your life. Such as one of the positive affirmation for those who want to lose weight is: I have the power to control my weight through healthy eating and exercise.
🦋 The affirmation must be in the PRESENT✅ tense😀👍. No past ❎or Future ❎Tense. Such as: I am constantly moving towards my ideal weight.
🦋 Form statements of FACTS of TRUTH. Words like "might" and "could" are less powerful than words like "AM" and "DO".
🦋 Be RELEVANT. If you are creating an affirmation for a specific situation, think about the things you want to achieve🤩.
Remember, when you want to form new beliefs and habits, affirmations alone will not be enough. They are more of a supportive tool which will work only and only if YOU WILL TAKE ACTION. Without an inspired action, there is no chance you will succeed.💫
For any queries contact me at my website https://birgabutenhoff.com/
or DM me at my Instagram account https://www.instagram.com/findingtruepurpose/
If you have questions LET ME KNOW.
MUCH LOVE❤
BIRGA.