9 Tips To Manifest An Abundant Life
ABUNDANT LIFE
What do you mean by an Abundant Life?
Lets first know What is Abundance?
As per👇
CAMBRIDGE DICTIONARY 👉 ABUNDANCE is the situation in which there is more than enough of something.
MERRIAM WEBSTER 👉 ABUNDANCE is an ample quantity.
WIKTIONARY 👉 ABUNDANCE is the frequency, amount, a ratio of something within a given environment or sample. 
You can see above that Abundance means different, to different people. But for most of the people, Abundance means lots of money💰 and an Abundant Life means living a Wealthy💲and Luxurious Life 🏰.
Tell me one thing 👉 When you have lots of money but do not have a healthy life than what will be the benefit of that money. All of us know that Wealth can never✖ buy Health. 
Like this even when you have Plenty of Money and good health but do not have Peace of Mind than both wealth and health will not bring happiness😀 and joy😍 in your life and will seem meaningless at that point of time.
Actually,
ABUNDANCE IS THE ABILITY TO DO WHAT YOU NEED TO DO WHEN YOU NEED TO DO IT.  
&
ABUNDANT LIFE IS LIVING YOUR LIFE PURPOSE EVERY MOMENT💯.
👆It is so simple yet we complicate it.
Do you know we can manifest Abundance in every moment of our life? Even for the small small tasks of life that we do not even give attention when we are moving forward in the rhythm of life. For example,
✨While driving 🚗 in a busy market, and getting parking just where you need to IS ABUNDANCE.
✨ While cooking 🥘, having all the ingredients of your recipe in the kitchen IS ABUNDANCE.
✨ While walking on a road having enough money in the pocket to buy food🥪 for a beggar IS ABUNDANCE.
✨ While sitting with a friend who is very sad, you are able to make him/her laugh😂 IS ABUNDANCE.
✨ Having enough will power to move forward for your Dreamz💭 even in adverse situation IS ABUNDANCE.
✨ Even the ability to SMILE😍 when you are in pain IS ABUNDANCE.
but we never acknowledge such events and take them for granted.
Every Moment is Abundant when we start to acknowledge it. Know that 👉 There's ABUNDANCE for each and everyone in the UNIVERSE 💯.
More you will have Faith, more you will witness an abundant life. More you will provide to others, more you will be provided by the universe.
👉How to manifest Abundant Life❓
We ourself create blocks to manifest abundance in our life. Our limiting ⚠believes, ⚠ fears and ⚠doubts acts as a barrier between us and our abundance.
9 Tips To Manifest An

Abundant Life👇
 Maintain a journal📙 and write📝 down all your desires/dreams/wishes in this journal regularly. Writing down your desires/ goals/ dreams brings clarity to your thoughts. Clear thoughts are easy to manifest 😊👍 as it eliminates all fears and doubts. Writing down also brings clarity at the subconscious level.
Enlist your limitations. Know that Universe🌌 is Infinite and there is Abundance for all. There is no❌ limit to what you can achieve in life. Most of the time your limitations are only your fears and doubts. So acknowledging them through writing📝 often lifts them up from your reality.
Take action against your limitations. Now look for the ways to overcome those limitations one by one. Remember you are an infinite being who is capable of anything. The only limitation is how far you can think💭.
Think out of the box. And know that you are WORTHY of all that you dream for yourself. No matter how impossible things might seem initially but YOU CAN ACHIEVE ANYTHING💯. Know that anything that you can think of is achievable for you.

Remove negative beliefs

. If you think that there's any old BELIEF system that is stopping you to move forward than replace it with positive Affirmations. Read 👉 How to Form New Beliefs and Habits with Affirmations.
Practice the VISUALISATION technique. Visualization💭 helps in the manifestation of ABUNDANCE. Everything we visualize is taken as true by our subconscious mind which further builds the belief system in favor of those visualizations. If we will visualize our dreams and feel them as true with all our senses, the sooner it will be manifested.
 Meditation.  Meditation🧘‍♀️ does healing at a subconscious level. It raises our frequency which aligns us more with the abundance.
Abundant mindset. Stop cribbing about what is wrong in your life. Instead, start appreciating what good you have in your life. Read 👉 How Gratitude Changes Our Life!
Live in Now. Don't make it seems like a fight. Move forward while enjoying every step of it. Have TRUST on yourself 💯. Know that everything that you can think of is POSSIBLE and ACHEIVABLE💗👍. Live every present moment to its best. Most of the time our fears represent our anxieties for our future. When you will start living in the present moment all your fears will evaporate from your life leaving room for abundance to manifest.
Last but not the least, Surround yourself with people who have an ABUNDANT MINDSET. People with a scarcity mindset will eventually make you think about the scarcity. But if you will engage with people who are happy😀, Joyful😍 and living life every moment💯 the same will get manifested into ur life.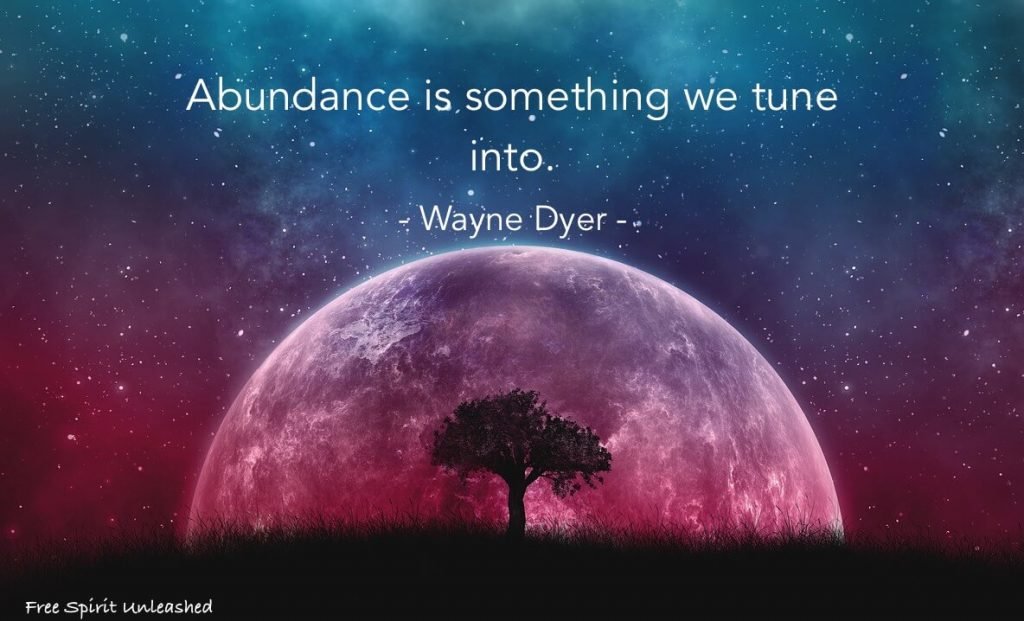 REMEMBER WE ALL ARE BLESSED WITH ABUNDANCE.ALL OF US HAVE WHAT WE NEED TO HAVE AT ANY GIVEN MOMENT. WE JUST NEED TO TUNE TO THAT AND ALLOW IT TO FLOW FREELY INTO OUR LIFE💫👍.
Be LOVE ❤️.
Thank You😍
(If you find this Blog helpful and informative than DO LEAVE COMMENT in the comment box below👇. Your comments will help me to share more and more information with you.)